Edis Audio Visual keeps you abreast of news, views, comments and changes
Edis AV Teams up with Stampede Global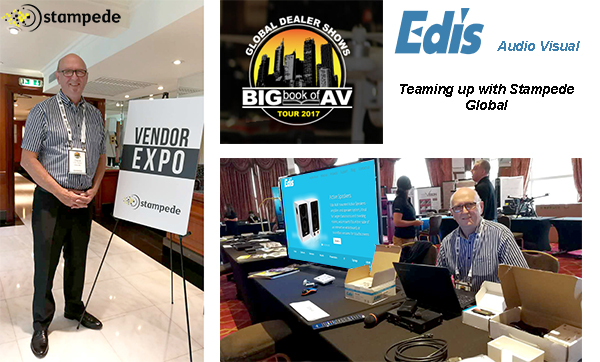 It was a great occasion to attend the very successful Stampede Global Big Book of AV - Global Dealer Show in London last month, the start of a new cooperation betwen Edis AV and Stampede Global
Stampede will be stocking a large range of Edis AV products, please establish contact with the Stampede Sales Teams for credit accounts to start your Trade partnership process rolling
The Stampede UK Sales team is based in Reading UK but also covers sales to EMEA countries via Sales teams based in The Netherlands and Nordic Countries - click on the logo below for web contacts or call Jeff Kausch and his team on 00 44 (0)118 2078 200

We are very much looking forward to building a really great relationship with a Global scope for Edis products through Stampede Global's extremely motivated and professional sales teams
HDMI IR Extender
Our new HDMI IR Transceiver includes a Transmitter and Receiver, extending your system by sending high definition video and audio to any HDTV display up to 20 meters away (line of sight needed).
Supports resolutions up to 1080p Full HD, 3DTV, CEC, and 7.1-channels of High Bit Rate (HBR) lossless digital audio such as Dolby TrueHD, DTS-HD Master Audio.
The HDMI Wireless Extender is excellent for use in a meeting room to reduce the normal tangle of cables. Use two extenders in one room without interference
No need for long cables or trunking
EA35 Power Glitch
If you've found a power failure or intermiittant power problem with any of our EA35 amplifiers the likely cause is the small white plastic cover (cap) that fits into the DC input on the front panel. Some of the spiggots on the rear of the cap are a fraction too long and can temporarily disconnect the DC power source from behind the socket.
If you are having problems with no power or power intermittant just throw away the small white plastic cover - do this even with the EA35C (with built-in DC power supply)
All future shipments will have a new cap with reduced spiggot length - apologies to those who suffered from this simple but very annoying problem
EA121 - 100 watt soundbar for that superior sound quality that audiences deserve
Enhance the sound reproduction of touchscreens and TVs with a 100 watt soundbar for that superior sound quality that your audiences deserve
Ultra Mini Intel PC with Microsoft Windows10
Our Ultra Mini Intel PC with Microsoft Windows10 is available now for delivery in large or small quantities, shipped by DHL or by seafreight and ready for despatch within days.
Turn any Touchscreen, monitor, projector or TV into a powerful PC or use for Digital Signage with WiFi, supports wireless keyboard, mouse, microphone and other accessories.
Make Classrooms and meeting rooms come alive with sound
Stunning 2.4 Ghz Wireless lapel microphone system
IR - Wireless free microphones - classroom, presentations, events
The effectiveness of teaching or any presentation is a clear sound source that is easy and unobtrusive to the presenter, no trailing cables and no interference from other sources. IR microphones tick all these boxes and are easy to fit or retro-fit into any existing amplifier system.
These stunning IR microphones are available ex-stock from InsideAV or Midwich